July 25, 2019 – Willmar, MN – RELCO is pleased to announce and welcome Hayden Bennett, Ph.D., Principal Dairy Scientist to their team. Hayden joins us from Hilmar Cheese Company and brings over 20 years of experience in the international dairy industry.
Hayden received his Bachelor of Technology in Bioprocess Engineering, Master of Technology in Food Engineering, and Doctor of Philosophy in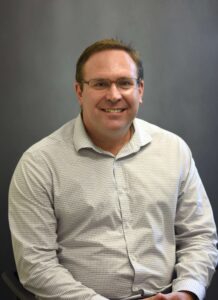 Process Engineering from Massey University in New Zealand. He began his career at Fonterra Co-Operative in his native home of New Zealand. From 2007 to 2014, he served in various roles, early on in his career, he was responsible for providing technical support to ten regional manufacturing plants with a focus on capital and site improvement projects. In 2010, he transitioned into a Senior Product and Process Technologist role where he was responsible for the rollout of solutions to over 50 manufacturing plants. In 2012, he was named Lead Technologist, coordinating multi-disciplinary and global teams to execute strategic initiatives, and providing technical services and solutions to over 80 plants throughout Europe, UK, Australia, New Zealand, North and South America, Asia and Africa. In 2014, he began a consulting relationship with Hilmar Cheese Company, Inc. and later joined the Hilmar team as Principal Scientist. While in his role at Hilmar, Hayden lead a cross-functional team, responsible for the commissioning, optimizing and technical activities of a green field milk powder dairy site while playing a key role in developing new products.
"We are thrilled to have Hayden on board. He will play a key role in researching and designing systems to fulfill our customers' needs along with providing support to create estimates. With his extensive background and wealth of experience, he was an ideal candidate for this position," says Steve Ennenga, RELCO Vice President & Chief Operating Officer.
Hayden and his family are currently in the process of relocating to West Central Minnesota. He is based out of RELCO's corporate headquarters in Willmar, Minnesota.