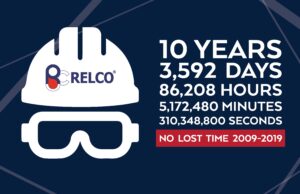 November 20, 2019 – Willmar, MN – RELCO, LLC, a Willmar, Minnesota-based manufacturer of cheese & dairy processing systems and equipment, is proud to announce that today the organization reached a significant milestone, having completed 10 Years on the job without lost time due to injury.
"Achieving this incredible accomplishment took a total team effort," says Steve Ennenga, RELCO Chief Operating Officer & Vice President. "RELCO has consciously refused to accept accidents as unavoidable aspects of project execution and set high standards with a goal of no lost time due to injury."
Putting safety first requires focus and determination to ensure that our work environments are as safe as possible. RELCO's safety program lays the foundation to make safety the number one operating priority within each employee, and attaining this goal represents a significant milestone in RELCO's 38 year history. We look forward to the future and the milestones yet to come.