Lone Star Dairy Products has a vision to become the world's leading producer of value-added dairy ingredients.
Lone Star Dairy has trusted RELCO to identify and install quality dairy processing equipment, most recently Twin Vacuum Dense Phase Conveying & Bulk Bag Filling Systems.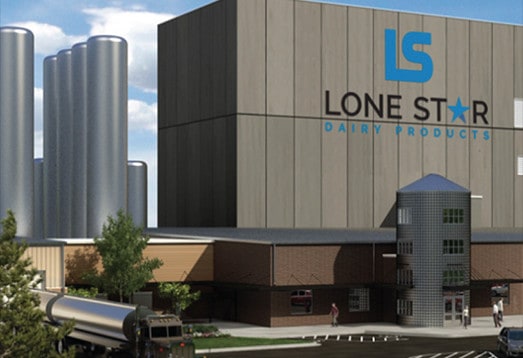 A Long History with RELCO
Cody Gruwell is the General Manager at Lone Star Dairy Products. He ensures the day-to-day operations meet the needs of Lone Star's customers. His impressive career spans 20 years including all facets of dairy, from bagging to executive management. Cody remembers when he first started working with RELCO 17 years ago, "My first project was when RELCO installed a Lactose Drying System under incredibly tight time constraints. We basically built a dairy plant in six weeks." Cody has been an instrumental collaborator in the plant construction with several large projects over the years, many with RELCO. He thinks back, "The next project we did involved integration upgrades to the existing plant control network. This was a very difficult project due to timing of downtime that RELCO did an extremely impressive job at coordinating."
The Choice is Clear for Lone Star Dairy Products
For Cody and the team at Lone Star Dairy, working with RELCO comes natural because the values of the two companies align nicely. Cody points out, "RELCO, in my belief, has customer service and quality as core goals." It's the experience in successful planning, executing, and completing a project together that leads to that mutual trust for the next project down the road. Cody's comfort level with RELCO has led to a great partnership and confidence that the job will be done right. Cody assured, "My personal relationship with RELCO during a project, and more importantly after the project is complete, made them the clear choice when it came to this new project."
Bulk Bag Fillers Installed in New Milk Drying Factory
Lone Star Dairy Products recently purchased Bulk Bag Fillers for their new milk powder plant in Canyon, Texas. The Bulk Bag Fillers are designed for sanitary USDA application of unique dry powders. Designed to ensure stability and accuracy of every bag filled, the Bulk Bag Filler is a favorite of customers like Lone Star Dairy because of the simple operation and how easy it is to clean between product changeovers. Cody explained, "We purchased two separate Bulk Bag Fillers that can fill 2000 lb. totes or 2204.6 lb totes. RELCO also provided the entirety of the equipment needed to convey the powder from the dryers to the packaging equipment." When Lone Star Dairy was evaluating the Powder Handling Systems and equipment for the new milk drying factory, RELCO was an obvious choice. Cody admitted, "RELCO's elegant design was the clear leader." The Bulk Bag Fillers help to make General Managers like Cody's job easier when it comes to inspections, too. He indicated, "The bulk filler design was so well done that the Regulatory Inspector could not find one thing to comment on, this is unheard of in the industry."
Beyond the Purchase Order
When Lone Star Dairy works with RELCO on a project, it's not just about the purchase order. RELCO works with their clients every step of the way – from equipment specifications, to a successful installation, and follow-up. Cody gave a case in point, "RELCO was part of the design/build planning process to ensure all requirements of their equipment were met. They helped through the install and also provided 3-D CAD drawings to show exactly what was needed."
RELCO as a First Choice
Cody has noticed consistent results from RELCO in two important areas: Product Quality and Customer Service. When asked what stands out to him about RELCO, he did not hesitate, "RELCO has fantastic customer service and I believe they truly care if we are successful or not." His advice to others who are considering powder handling equipment, is to look at RELCO first, "RELCO should stand out as the first choice even after investigating all of the competitors from the design aspect."
For more information about Lone Star Dairy Products, please visit their website at www.lsdp.com.
L-TECH Lactose Drying System
Bulk Bag Fillers
Dense Phase Conveying System