Waiū Dairy is a green field processing plant situated in the Eastern Bay of Plenty, North Island, New Zealand. From concept to a commercial product, this factory is a testimonial to collaboration, determination, and community.
Waiū Dairy incorporates an adaptable and nimble approach to dairy processing. Designed to utilize renewable energy and maximize technology advances, their plant has built-in flexibility to produce a range of dairy products which are produced from both conventional and organic dairy milk.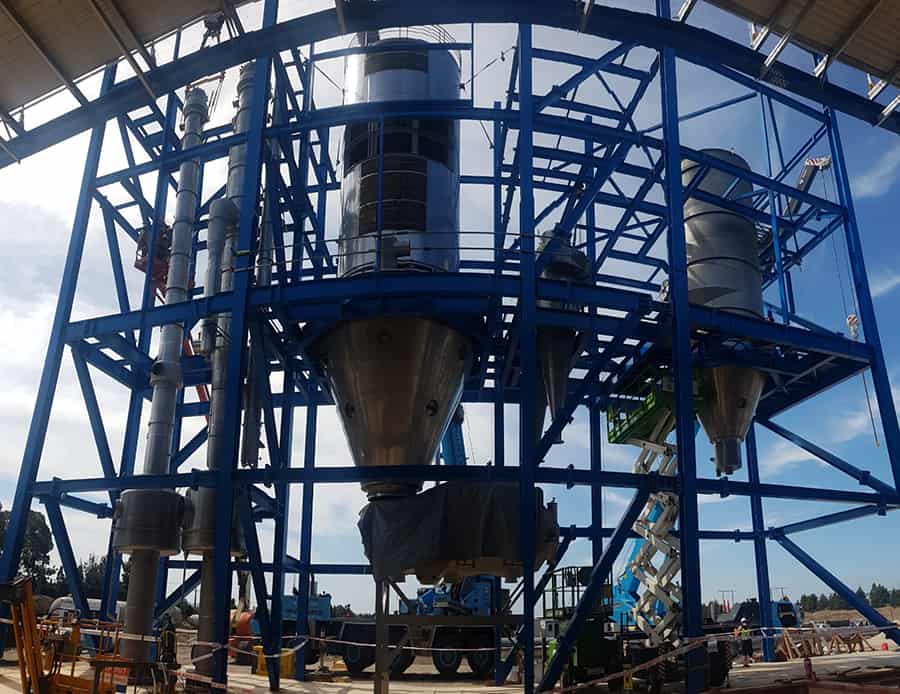 Dreaming Big
In a market where big commodity dryers have dominated the New Zealand landscape, Waiū Dairy is a testament of a new approach looking into Organic Milk and utilizing specialty products. Waiū Dairy was formed by the collaboration of twelve businesses. Eleven of these being local Maori businesses, all based locally to the factory – with some being suppliers to the factory.
RELCO was engaged to discuss options for a green field Specialty Products Dryer focusing on milk protein concentrate (MPC85) and whole milk. The coming months saw Waiū senior management team working tirelessly to actualize their dreams. RELCO New Zealand and RELCO Brazil offered a collaborative approach for a custom evaporation and drying facility. The biggest factor was the approach offered would align with Waiū's values to produce nutritious high value products that contribute to the well-being of people, while bringing attention to recognized environmental standards and regulations.
Custom Creation
Dave Vanderwerff, RELCO Pacific's Project Manager, worked closely with Waiū Dairy to ensure that the evaporator and dryer were delivered on time and to budget. Additionally, design was a major factor, and RELCO worked closely with Waiu's team to design a system with product flexibility and capability that a startup like this would need to attract customers internationally. Waiū was very comfortable with this multi-product capability approach and economic design that allowed for fast delivery and a broad range of outputs. RELCO was also Waiu's one-stop-shop from evaporation to packaging, alleviating the sometimes-cumbersome task of managing multiple operations and vendors.
Flexibility is Key
The versatility of the custom plant allows Waiū to expand and adapt to market demands with relative ease. Since the evaporator and drying system was installed, MPC85 and Whole milk has been run, as well as skim and buttermilk being processed through the dryer. Additionally, permeate has also been concentrated through the evaporator. Richard Atkins M.D at RELCO Pacific congratulates Waiū for this greenfield investment in Kawerau. Stating:
"To launch into a new business of this nature was courageous and a tremendous team effort, RELCO is proud to have been selected for the evaporation, drying, powder handling and packing and pleased that the versatility of the plant has been demonstrated a number of times since successful commissioning. We now look forward to a long association with Waiū through their growth years."
Together, the RELCO & Waiū partnership allowed for an impressive operation to come to fruition, and we look forward to continuing to support their mission in producing exquisite powder products.
For more information about Waiū Dairy, please visit their website at www.waiudairy.com.