Operators of food processing plants now have a contaminant-sensitive method of aeration that is easily cleaned from the outside. Solimar's proven silicone disk-type aerators are 3A FDA compliant with stainless steel and food grade UHMW plastic construction. Our new Quick Clean Sanitary Fluidizer Kit with tri-clamp ferrule mounting provides for quick cleaning and inspection without confined space entry.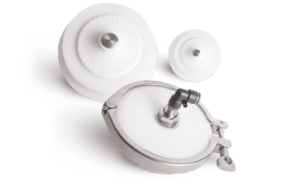 RELCO has begun applying the new technology to their equipment. "We have been integrating the Solimar Fluidizer disks into our powder handling processes for several years," explains Brent Steinhaus, Process Engineer for the company, "and the new Quick Clean Sanitary Fluidizer Kit is an advantage to our customers." By eliminating the need to enter the bin or hopper, processors of powders maintain a contaminant-free environment. "FDA certified materials are required for our applications," Steinhaus explains, "and it allows us to continue to provide cheese and dairy plants with safe, innovative process technologies."
The Quick Clean Sanitary Fluidizer Kit is available with the 4″ disk, or a 2″ Mini version. It comes standard with a FDA approved white silicone disk, but a metal detectable disk is also available. Like all Solimar Fluidizers, the Quick Clean works in most hoppers, silos and bins. It eliminates bridging and rat-holing by using air movement and gentle vibration to facilitate the flow of dry bulk materials.
###