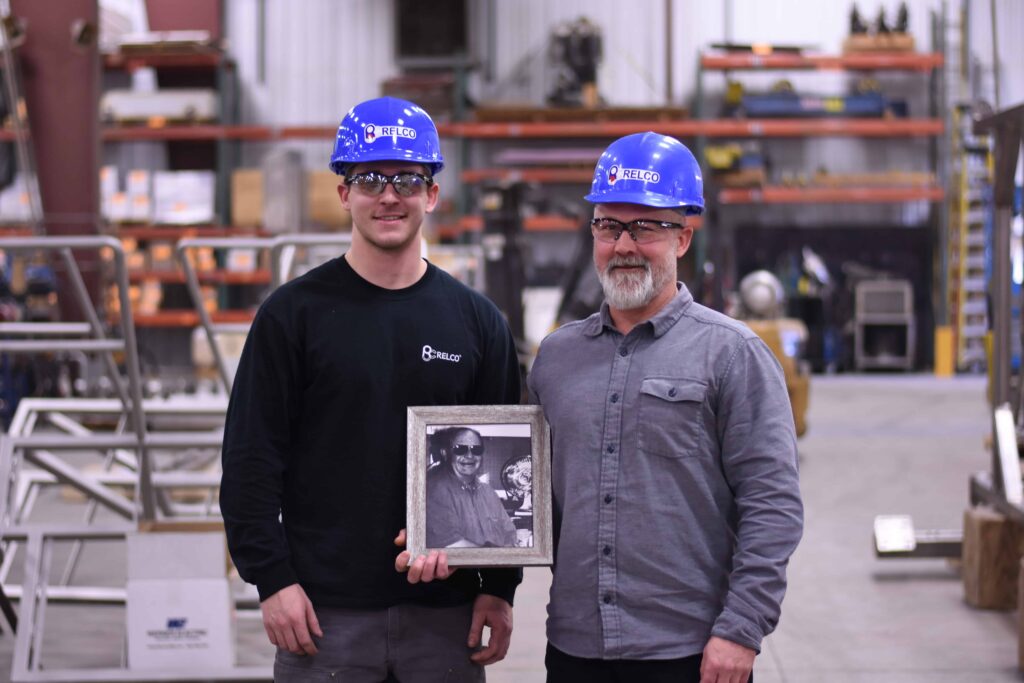 What started as a welding spark, led to three generations of the Frank family tightly knit into the culture at RELCO, headquartered in Willmar, Minnesota. Stephen Frank Sr. taught welding at Willmar Technical College (now Ridgewater College) for 30 years. He taught over a thousand students the welding trade, including Loren Corle, who is the Founder and President of RELCO. Through his passion for welding, inspiring methods of teaching, and enthusiasm for RELCO, there are currently ten of Stephen Frank's former welding students working at RELCO, as well as his son, Steve Frank, Jr. and grandson, Jake Frank.
STEPHEN FRANK, SR. – WELDING INSTRUCTOR, ENTREPRENEUR
Stephen Frank, Sr. grew up in Minneapolis and graduated from Dunwoody Vocational School in 1962. Stephen Sr. was employed as a welder at Electric Machinery Company, FMC Corporation, 3M, Bellanca Aircraft Company, and later taught welding at Dunwoody Vocational School. In 1972, his family moved to Willmar where Stephen Sr. taught welding at Ridgewater College.
One of his many students at Ridgewater College was Loren Corle, who later founded RELCO. His son, Steve Frank, Jr. remembers how his Dad was inspired by Loren's success, "Dad was so proud of Loren and his abilities & accomplishments. Dad loved bringing real-life successes and examples from past students into his classroom to inspire his new students." Knowing Loren's passion for welding, design and dedication to his business, Stephen Sr. also recommended countless students to work at RELCO over the years. Stephen Sr. trusted Loren and RELCO and the proven track record of success of the students who went to work there.
WELDING PASSIONS OF ART & BUSINESS
Steve Jr. looked back, "Dad would help the students understand they could be bigger than a welder, they could be whoever they wanted to be through the skill… they could aspire to be something grander." Stephen Sr. used examples of his past students who had succeeded in creating their own business. He understood first-hand how welding could become a business and passion. Stephen Sr. started his own business called Unique Metal Sculptures where he combined his love for art and welding into a family business of metal sculpting. Steve Jr. remembers how the business was a family affair, "Dad loved using his creativity to make sculptures from brass, copper, and steel… if people would buy one sculpture, they always came back the next year for another. Mom, Dad and I would travel all over the United States, setting up Dad's sculptures at fine art shows. He would also make custom sculptures for churches and funeral homes." Stephen Sr. was also very active in his community, volunteering for youth sports, coaching basketball and hockey, and being a scout leader. He continued his passions of art and welding through his sculpture business until he passed away on March 18, 2017.
STEVE FRANK, JR. – ESTIMATING MANAGER AT RELCO
Steve Frank, Jr. first met Loren Corle in 1976 when Loren was competing in a national welding contest through VICA. His Dad was the Welding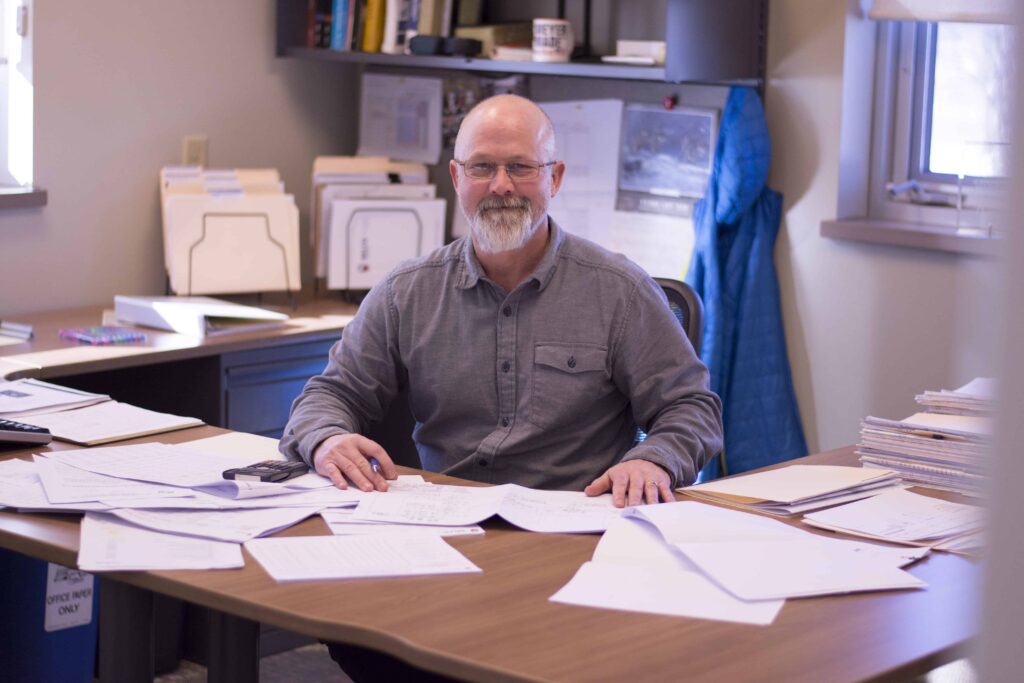 Instructor and VICA Adviser at Ridgewater College. Steve, age 11 at the time, remembers, "Our family traveled to Florida for the National VICA Conference since my Dad was Loren's Welding instructor. Dad took it very serious, he wanted his welding students to be competitive at a National level, and they won lots of National competitions. I remember Loren standing on the podium at the competition with a medal around his neck, and Dad was so proud."
Later, Steve Jr. graduated from Ridgewater College for Drafting and then UW Stout for Industrial Technology with a BS degree. It wasn't until after college that Loren and Steve Jr.'s paths crossed again, "I remember Loren coming to our house, and he had a sheet metal layout question for Dad. I had just finished learning sheet metal layout in College, and Dad asked me what I thought. I discussed with them how to layout the pattern, and helped them find a solution. This was the first time I had really worked with Loren." Soon after, Steve Jr. remembers his Dad suggesting that he go to work for RELCO. At first he was reluctant to work for just a "welding shop" but he did take his Dad's advice. Steve Jr. recalls, "I started at RELCO in 1988 as a Designer, Estimator and CNC Programmer. Back then RELCO had about 25 employees, mostly welders, and I was in the in the corner with a drafting table in the same office space as Loren." Today, RELCO has approximately 150 employees and Steve Frank Jr. is the Estimating Manager.
JAKE FRANK – GENERAL LABORER AT RELCO
Jake is Steve Frank, Jr.'s son, who recently started working at RELCO as a welder. Jake graduated from New London Spicer High School and attended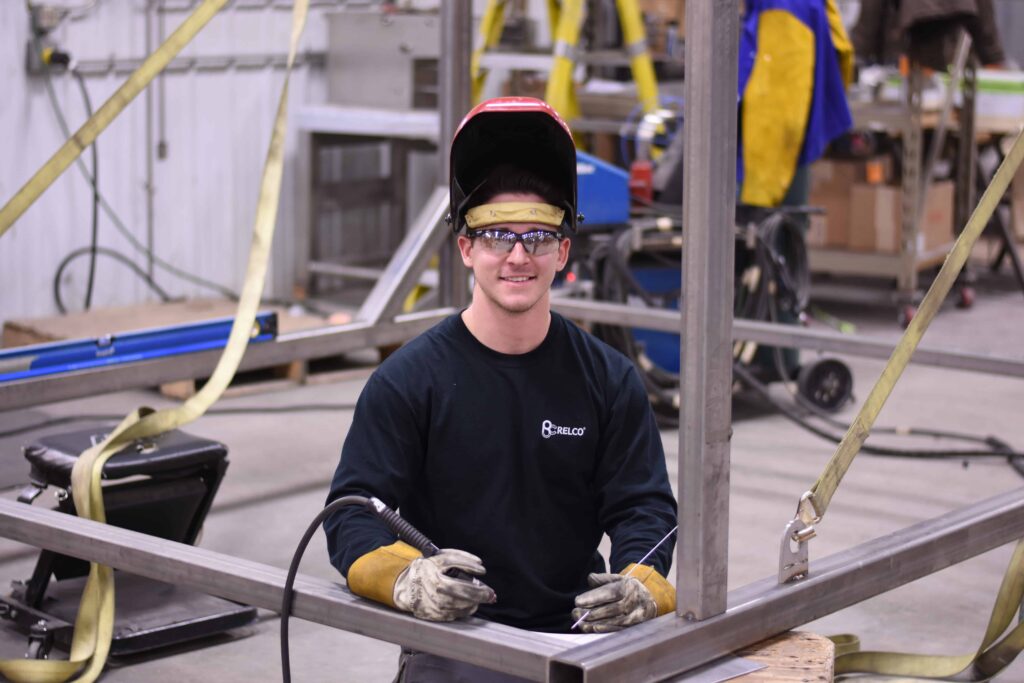 Ridgewater College for Law Enforcement. He soon realized that he was not interested in pursuing a Law Enforcement career but would rather build things. When Jake talked to his Dad about changing his career path to welding, Steve Jr. knew what to do. He remembers, "When Jake showed interest in working at RELCO, we started practicing welding at home together with the welding equipment I inherited from my Dad. We got Dad's welding machine going, got a bottle for it, and a welding rod, and practiced welding every Saturday for 6 weeks." With his grandfather's welding equipment and some inspiration, Jake learned welding from his Dad. He worked closely with Tayler Sing, RELCO's Manufacturing Manager, to find out what welds to practice and to verify that his welds were of exceptional quality.
A STRONG WELD BETWEEN SCHOOL AND WORK
Many of Stephen Frank, Sr.'s students from Ridgewater College have been inspired to start their own business from their passion for welding, like entrepreneur, Loren Corle. Additional students of Stephen Sr.'s have chosen a career with RELCO over the years and continue to be employed there today. Steve Jr. pointed out, "I can count at least 10 employees that my dad taught at the technical college that are currently employed at RELCO."
CAREERS AT RELCO
RELCO is known for being a forward-thinking company that treats its employees well, and it shows through employee retainment and advancement opportunities. RELCO is growing tremendously and is hiring engineers, welders, designers, installers and various other positions. To be a welder at RELCO, schooling is preferred, but not required. One thing that Steve Jr. pointed out, "It's easy to teach welding, hard to teach work ethic. We are always looking for people that have the will and desire to take the job serious."
For more about career opportunities at RELCO, visit our careers page.